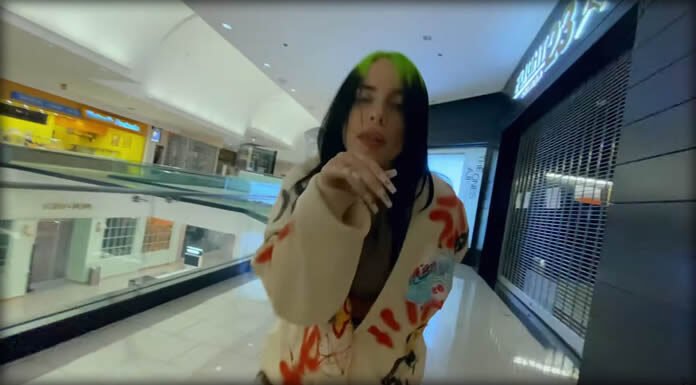 La cinco veces ganadora del premio GRAMMY, Billie Eilish, lanzó su nuevo sencillo titulado "Therefore I Am" a través de Darkroom / Interscope Records / Universal Music Canada, la compañía de música líder del país. La pista incluye un video musical oficial también dirigido por The 18 y recibió un disparo en un centro comercial desierto de Glendale Galleria, un lugar familiar para Billie durante sus primeros años de adolescencia.
Billie Eilish – Therefore I Am (Video Oficial)
"Therefore I Am" sigue a unos meses ocupados escribiendo, grabando y haciendo campaña, desde que regresó a la arena pública a principios de este año con una poderosa presentación en vivo para el Comité Nacional Demócrata de su canción 'my future'. El mes pasado , Billie Eilish también realizó su primera transmisión en vivo global revolucionaria. ¿A DÓNDE VAMOS? THE LIVESTREAM incorporó tecnología XR de última generación, reuniendo a los fanáticos de la música de todo el mundo para una experiencia virtual completamente inmersiva. Uso de múltiples cámaras , ángulos y entornos 3D, los espectadores pudieron adentrarse en el mundo de Billie, ya que realizó un set en vivo para lo que fue realmente una experiencia virtual sin precedentes. El pre-show contó con contenido exclusivo, obsequios, trivia y anuncios de servicio público con votaciones de invitados especiales.
El video musical oficial de "Therefore I Am" se estrenó en MTV Live, MTVU y en la valla publicitaria de Viacom Times Square.
El domingo 22 de noviembre, Billie Eilish subirá al escenario para una presentación de estreno mundial de 'Por lo tanto yo soy' en los American Music Awards, donde está nominada a dos premios: Artista favorita – Rock alternativo y Artista social favorita. El espectáculo transmitido en vivo a las 8PM EST / PST en ABC.
El 10 de diciembre, Billie Eilish se presentará en vivo en iHeartRadio's Jingle Ball 2020. El programa se transmitirá en vivo en más de 90 estaciones de iHeartRadio CHR y como una transmisión de video en vivo en la aplicación The CW y CWTV.com el jueves 10 de diciembre, comenzando a las 6 p.m. PT / 9 p.m. ET.
"Billie Eilish: The World's A Little Blurry", el muy esperado largometraje documental dirigido por el galardonado cineasta RJ Cutler ("Belushi", "The September Issue", "The War Room") se estrenará en cines y en Apple TV + en febrero de 2021.
Billie Eilish lanzó su innovador álbum debut "WHEN WE ALL FALL ASLEEP, WHERE DO WE GO?" En 2019 y ganó Mejor Artista Nuevo, Álbum del Año, Disco del Año, Canción del Año y Mejor Álbum Vocal Pop en este La 62ª entrega de los premios Grammy® en enero, seguida de su entusiasta interpretación de The Beatles"Yesterday 'en la 92ª edición de los Oscar®. Este año también vio a Eilish, de 18 años, lanzar su tema oficial de James Bond, aclamado internacionalmente, "No Time To Die". , "para la próxima película de James Bond de MGM / Eon Productions.
Therefore I Am…
I'm not your friend or anything
Damn, you think that you're the man
I think, therefore, I am
I'm not your friend or anything
Damn, you think that you're the man
I think, therefore, I am
Stop, what the hell are you talking about? Ha
Get my pretty name out of your mouth
We are not the same with or without
Don't talk 'bout me like how you might know how I feel
Top of the world, but your world isn't real
Your world's an ideal
So go have fun
I really couldn't care less
And you can give 'em my best, but just know
I'm not your friend or anything
Damn, you think that you're the man
I think, therefore, I am
I'm not your friend or anything
Damn, you think that you're the man
I think, therefore, I am
I don't want press to put your name next to mine
We're on different lines, so I
Wanna be nice enough, they don't call my bluff
'Cause I hate to find
Articles, articles, articles
I'd rather you remain unremarkable
(Got a lotta) Interviews, interviews, interviews
When they say your name, I just act confused
Did you have fun?
I really couldn't care less
And you can give 'em my best, but just know
I'm not your friend or anything
Damn, you think that you're the man
I think, therefore, I am
I'm not your friend or anything
Damn, you think that you're the man
I think, therefore, I am
I'm sorry
I don't think I caught your name
I'm sorry
I don't think I caught your name
I'm not your friend or anything (I'm not your friend)
Damn, you think that you're the man (They wanna, they can try)
I think, therefore, I am (I am)
I'm not your friend or anything (Friend, they wanna)
Damn, you think that you're the man (You're the man)
I think, therefore, I am (Therefore, I am)